Click on the 'Account' link at the top of each page.
Alternatively click one of the following links: PureTech account sign-in or Qvis Wholesale sign-in.
Enter the email address and password associated with your account and press Sign In.
Forgotten Your Password
If you are experiencing problems accessing your account there are a number of things you can do.
1. Check your email
Access your email account and using the search box look for "Welcome to Qvis". If you still have the original email we sent you when you opened your account, you will find your username and password contained within it.
2. Reset your password
Either click on the 'Forgotten Your Password' or follow this link
2.1 Enter your email address into the field and press 'Submit' button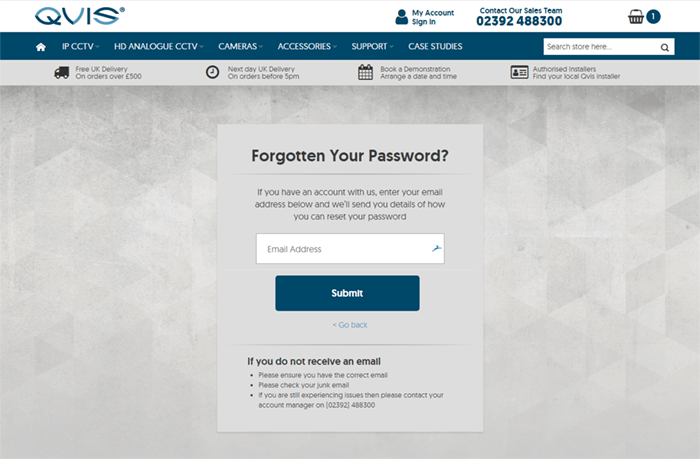 2.2 Check your inbox for an email with the subject line starting "Password Reset..."
Please ensure you have entered the correct email
Be sure to check your junk mail or any other folders
2.3 Once you have found the email - click on the 'Reset Password' link
2.4 You will then be asked to enter and confirm your new password.
3. Contact Us
If you have tried the above and are still experiencing problems - please contact a member of our team who will be happy to assist you.
Password Manager
Once you have accessed your account we recommend you use a secure password manager such as Dashlane, LastPass or 1Password to store your password for future reference.