This guide will explain how to set up the λ | Cortex NVRs with PTZ (Pan, Tilt & Zoom) cameras. Your PTZ will have other features which cannot be set through the PTZ control panel, for these please refer to your camera user guide for how to set this up.
What you will need:
NVR
Monitor
Mouse
PTZ Camera
Step 1: Connecting and Setting Up
Unlike analogue cameras, IP camera do not require setup to operate the Pan, Tilt and Zoom controls for them, once the camera is on the system you will be able to right click on the camera and select the PTZ option.
Step 2: Operation
There are various functions you can perform from the NVR when on a PTZ camera which are listed below:

These are the movement buttons used for adjusting the position of the PTZ

These buttons are used to adjust the zoom and focus position of the camera.

This is the Home position section, this is where you will set what position the camera starts up facing, to set this use the direction buttons to position your camera to the desired point and press the second icon with the flag, this will save the position. If you ever wish to recall this point press the first icon.
Step 3: Presets
The camera can be taught to remember certain positions or 'Presets' which can be recalled during operation.
Select the Preset icon in the PTZ control panel.
Using the PTZ directional controls from the previous step, position your camera to the position you would like to save.
Click the add button.
Enter the name your would like to save this position as.
Repeat for all the positions you would like to save, changing the name each time.
These will now appear in the preset list.
To recall a saved position, go to the name and press GoTo.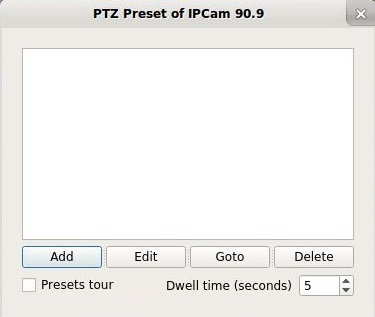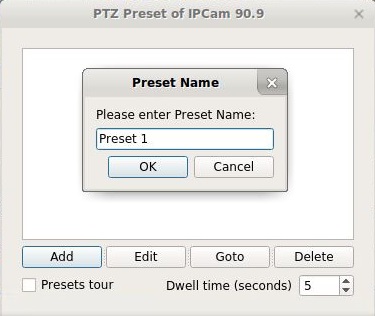 Step 4: Cruise
Once you have a number of presets saved your can set the camera to cycle between them in a pattern.
To start setting the Tour go to on the PTZ panel and enable the Presets Tour option.
Set the dwell time, this is the amount of time the camera will spend at each preset, this is set at 5 seconds by default.
Your camera will now begin to cycle through your stored presets and will hold there for the set period and then move to the next one in the sequence.